Project Manager Needed
Salary £37,000 FTE
20 hours per week with potential to rise to full time in the future.
The Evaluator is a fast-growing evaluation consultancy, founded in 2017, by Kirsty Rose Parker. Helping charities and not-for-profit organisations to demonstrate the impact of their work, creatively and visually, The Evaluator uses the tagline "We'll figure it out for you".
Ultimately, we are often 'measuring the unmeasurable' and fixing problems on a day- to- day basis. The tasks included in this work range from data capture, face to face consultations, telephone calls, research, analysis, report writing, visual data creation, presenting information and creative problem solving. We work at a range of levels including strategically and operationally.
We think people who succeed in our small organisation are kind, have empathy for others and have 'grit'. They are willing to go the extra mile to 'figure it out' for our clients.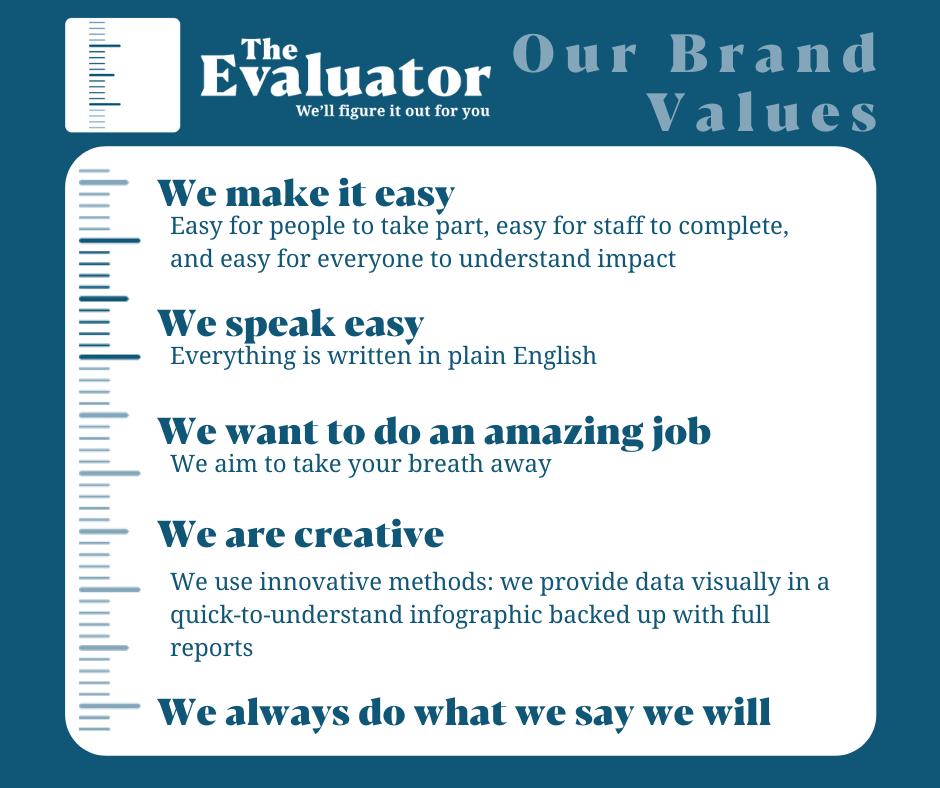 As the business is growing fast, we need a Project Manager to help manage a small freelance team and to enable the business to meet all its current commitments, while allowing our Founder and Director to explore new opportunities.
We want someone who:
Is a confident manager of people, across remote situations
Can you motivate and inspire a team? How do you empower people and get the best out of them? How have you excelled in this area? Tell us how you effectively manage talent, identifying and developing potential as well as planning for succession
Can interpret data and read spreadsheets, tables and graphs
This is a really important part of the job; you need to be incredibly data literate and also graphically literate. Maybe you have carried out statistical analysis in previous roles? How do you translate numbers into a story and use that information to persuade teams to make changes? Have you the ability to translate complex statistical information into engaging verbal and written content?
Is a brilliant report writer
Have you spent time developing your own voice in reports, developing a critical style of communicating which is engaging, authentic, grammatically correct and easy to understand? You will need to have excellent communication skills, amazing report writing skills and a strong grasp of English.
Has Project Manager skills and can plan out what needs to happen and when to achieve success across multiple projects
We like to work positively, actively exploring what can be done, rather than what can't. We are customer-centric and need to meet customer deadlines at all times. How do you work backwards to ensure what needs to happen today does, how do you recognise and inspire a team to take ownership of processes and deliver their best?
Has some experience of the charity/ not-for-profit/ public sector
A strong working understanding of larger grants, aims and objectives of major funding bodies is important in the role.
Is passionate about solving problems and making the world betterWe are looking for someone committed to CPD, who is motivated and driven to succeed, a confident communicator and negotiator who uses persuasive skills and is able to consistently maintain high personal and professional standards at all times
Is honest, reliable, punctual, willing to learn and enthusiastic and able to work outside normal business hours when required
Desirables include:
A maths or economics qualification
Evaluation experience
Social return on investment experience
Project Management qualification
In return The Evaluator can offer an exciting and dynamic work opportunity; every day is different and we are often making a difference to people's lives. This is work that means something. Current projects include conservation of places and species, heritage building work, opportunities for Deaf and disabled people in the music industry, exploring how wellbeing and nature interact, measuring the impact of long-term arts projects, national festivals and working with projects supporting long term unemployed and some offenders.
We are looking for someone who is happy to work from home for the time being, able to travel to East Lancashire occasionally for meetings, and happy to travel around as part of the work undertaken.  Our clients are all over the UK, although we don't envisage this role having much travel included.
We are currently offering this role as 20 hours a week, but envisage a rise to full time may be possible in the future if wanted.
How to apply
To apply please send a two-page summary addressing the skills we are after and a succinct CV to kirsty@theevaluator.co.uk by 5pm on Wednesday 31st March 2021. You may also attach any reports you have written in the last 12 months, if you are the sole author of the report. We don't mind if some of that information is removed and classified if they are internal reports. We will invite those shortlisted to an interview and this will include a task to complete.
We welcome applications from disabled individuals and can make reasonable adjustments to the interview process if required, please ask. We also welcome applicants from diverse backgrounds, although applicants must be located in the UK and have a right to work in the UK.
https://www.theevaluator.co.uk/wp-content/uploads/2021/03/Evaluator-Icon@2x.png
710
711
Kirsty Rose Parker
https://theevaluator.co.uk/wp-content/uploads/2020/05/The-Evaluator-Main-Icon.png
Kirsty Rose Parker
2021-03-04 12:49:35
2021-03-23 08:42:09
We're hiring; Project Manager Needed